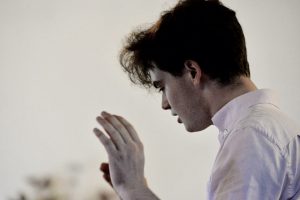 Tom Fetherstonhaugh was a chorister of Westminster Abbey where he sang for both daily and state services, including the solo at the Royal Wedding in 2011. As a treble he performed in opera productions at the Royal Opera House and solo roles at English National Opera (Billy Budd, The Magic Flute, Tosca) and his voice features on numerous film soundtracks including Prometheus, Life of Pi and Dark Shadows. He made his BBC Proms debut aged 13 as a soloist in Mahler's Das Klagende Lied under Edward Gardiner in 2011, and was a soloist in Tippet's King Priam in the Brighton Festival under Sian Edwards (2012). 
In January 2016 Tom formed the Fantasia Orchestra, a group of young players from Junior and Senior Conservatoires. Their concerts have won great acclaim, with the ArtsDesk calling the strings section 'already a thing of wonder'. Concerto soloists are taken from the orchestra, including the BBC Young Musician 2016 Sheku Kanneh-Mason. As well as performing music from the western canon (Brahms' Symphony no. 2, Tchaikovsky's Symphony no. 5, Beethoven's Symphony no. 7, etc.), Fantasia Orchestra is a keen advocate of contemporary music, and their current season sees three world premieres by Raymond Yiu, Alex Ho and Ted Mair. 
In September 2017 Tom made his conducting debut in the Oxford Chamber Music Festival, assistant well as being the assistant conductor for Jill Jarman's 'Minstream' double concerto with Dame Evelyn Glennie and Hugo Ticciati. 
Tom has conducted Southbank Sinfonia, Oxford Chamber Music Festival orchestra, Hereford Symphony Orchestra, Fantasia Orchestra, the Junior Royal Academy of Music Sinfonia, Senior Orchestra and Main Choir, the orchestra of the Pro Corda Senior Course, the choir of Merton College, Oxford, and, aged 13, the choristers of Westminster Abbey on their tour to Russia. Tom is the conductor of the Oxford University Sinfonietta from 2017-18: their season includes works by Schoenberg, Bartók, Pärt, Schubert, Beethoven, Debussy and Mozart. Tom adjudicated the 2018 Oxford University Music Society Composition Competition, and conducted the winning entry, Harry Baker's Lament, in February 2018. 
Alongside his conducting, Tom is a violinist and organist. He studied violin at the Royal Academy of Music Junior Department, and has held an orchestral apprenticeship with the Oxford Philharmonic Orchestra. He is organ scholar at Merton College, Oxford (where he studies Music), and has played for BBC live radio broadcasts. In March 2017 Thomas played for the first ever Anglican Evensong at St. Peter's Basilica, Rome, which was recorded by Vatican Radio for broadcast in the UK. He has performed recitals both in the UK and in Europe, including in both the Oxford Chamber Music and Oxford Lieder Festivals. He has played orchestral organ with the Ulster Orchestra.
Future orchestral projects include conducting Tchaikovsky's Rococo Variations in the Oxford Chamber Music Festival with soloist Sheku Kanneh-Mason. In 2018 Tom is performing the complete Beethoven Violin Sonatas with violinist Athena Hawksley-Walker in Oxford's historic Holywell Music Room. In the autumn Tom will play the organ for two BBC Radio 3 Choral Evensong broadcasts with the Choir of Merton College, Oxford.