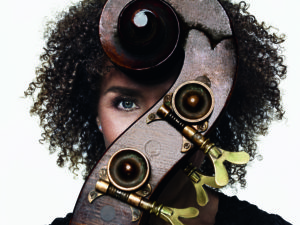 Chi-chi Nwanoku was born in London of Nigerian and Irish parents, and is the oldest of five children. She spent two years of her early childhood living in her much-loved fatherland, Imo State, Nigeria. At the age of seven she dis- covered music on a neighbour's piano, and was so inspired by its sounds and possibilities that she began her education as a classical musi- cian.
A year later Chi-chi was 'spotted' by an athletics coach, and took on intensive training as a 100-metre sprinter. She reached competition at national level within ten years, but this career ended very abruptly following a knee injury. Her other passion as a classical pianist had continued alongside her athletics, enabling her to take up the double bass at the age of eighteen and pursue a career in music. Chi-chi studied at the Royal Academy of Music in London, where she received her LRAM teacher's diploma and her ARCM performer's with Honours. On graduation she was awarded the Principal's Prize and the Eugene Cruft Double Bass Prize.
Chi-chi went on to win four scholarships, including The Royal Society of Arts, to further her studies with Franco Petracchi in Rome.
She has become one of England's most sought after double bassists, and has developed a worldwide reputation as one of the finest exponents on her instrument today. Chi-chi plays a unique historical instrument made by Nicolas Amati (Cremona) dated 1631.
Her first professional position was as principal double bass with the London Mozart Players, and since then she has worked as principal and soloist with many of Europe's prestigious chamber or- chestras and ensembles. These include the Academy of St Martin in the Fields, English Baroque Soloists, London Classical Players and the Orchestre Révolutionnaire et Romantique.
She is Principal Double Bass with the Orchestra of the Age of Enlightenment (of which she is also a founder member), and Endymion Ensemble.
Chi-chi has a wide range of musical interests, resulting in her involvement in the cutting edge of diverse styles of performance practise. This includes authentic style baroque performances, through the periods until the contemporary. She gave the UK premiere performance of Ferneyhough's Trit- tico per GS for solo double bass in 1996, and is the double bass soloist on the recording of Alexan- der Goehr's Sing Ariel, conducted by Oliver Knussen.
She has made many chamber music and symphonic recordings as orchestral principal. In October 2000 Hyperion label released Chi-chi's first solo recording to critical acclaim. This includes three double bass concertos by Vanhal and Dittersdorf, with the Swedish Chamber Orchestra; Hyperion CD 67179.
As a Broadcaster Chi-chi presented BBC Radio 3 Requests for 4 years, has contributed as a guest for BBC TV Proms and was a member of BBC's Classical Star jury.
She sits on several Boards including the Royal Philharmonic Society, National Youth Orchestra, Pa- tron of Mayor's Fund for Young Musicians, Music Preserved, Cherubim Trust, Kuumba, Chair of BBCF.
Chi-chi has written articles for a number of music publications as well as blogs for The Guardian. Awarded MBE for Services to Music in 2001, Chi-chi was one of 100 Happy List Independent on Sunday 2011.
Picture by Rankin Photography