Education
We are substantially increasing our Education and Outreach programme at the 2017 Oxford Chamber Music Festival.
We're delighted to have Dame Evelyn Glennie leading our flagship Schools' Concert in the Sheldonian, in which hundreds of pupils from the local area will get a window onto the exciting and diverse world of chamber music, running a special programme of masterclasses and performance of A level and GCSE pieces.
Younger children will be most welcome at our children concert at Wolfson College, exploring the Festival's themes of illusion and reality in music and readings from Scheherazade and 1001 Nights.
This year's artists in residence will play a substantial part in outreach, with the O/Modernt Kammarorkester under Hugo Ticciati undertaking chamber music workshops at local schools, with the generous support of d'Overbroeck's. We are also excited to welcome Latvian composer Peteris Vasks, who in addition to composing specially for the festival, will take part in a live discussion with the BBC's Michael Berkeley about the life of a composer and the creative process
It is our firm belief that music should be available for all young people regardless of background We are very grateful for the support of our sponsors and patrons in enabling us to bring the exciting atmosphere of the Festival to so many this year.
In addition to the above events, there will be a limited number of tickets available for every concert at the festival for under-25s, thanks to the support of the CAVATINA chamber music trust. To request a free ticket, please contact cavatina@ocmf.net. Do get in touch early to avoid disappointment.
Beyond the Festival, our Education Manager Julia Roderick is organising an interactive song-writing project to bring inspirational music making to young people from three Oxfordshire Primary schools. It will engage with some of the Festival themes and is intended to kick-start a sustainable programme of musical engagement with the local education community.
Previous Festivals
"It is not very often that you go to a concert and feel its physical and emotional impact. But that is what happened to students and staff at d'Overbroeck's who last week had front-row seats for a spellbinding performance of Tchaikovsky's Souvenir de Florence."
– Phil Purvis, d'Overbroeck's Director of Music
Read more about the Festival experience from Phil Purvis, Director of Music and students at d'Overbroeck's.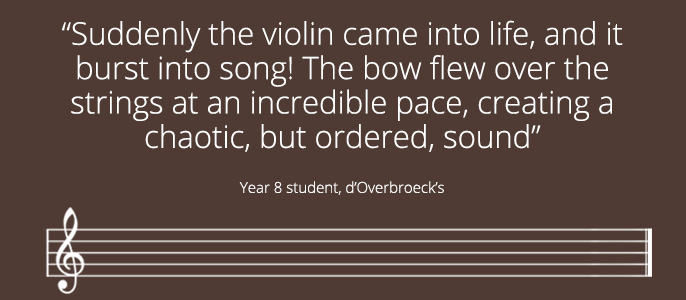 We are most grateful to the CAVATINA Chamber Music Trust for their support in enabling OCMF to offer FREE tickets to young people aged 8 to 25 (inclusive) www.cavatina.net, and to d'Overbroeck's School, Oxford for their continued support, publicity and sponsorship of OCMF.